[:fr]
Le cabinet Institutions & Stratégies est désormais qualifié OPQCM (Office professionnel de qualification des conseils en Management) pour ses services Finances et assurances.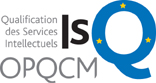 Ce certificat unique de qualification professionnelle, atteste de notre professionnalisme, notre savoir-faire financier auprès de nos clients et prospects.
Par cette qualification, le cabinet répond aux exigences de l'arrêté du Ministère de la Justice sur la pratique du droit à titre accessoire et peut délivrer des prestations juridiques associées à ses activités de conseil, à savoir:
L'examen des aspects juridiques et financiers des projets.
Gestion des aspects propriété intellectuelle/ industrielle
Le lobbying règlementaire dans le cadre d'agréments et certifications (règlementation locale : Amérique du Nord, Canada, Brésil et France)
Institutions & Stratégies est basé à Paris et offre un accompagnement intégrée dans trois domaines : Financements européens et multilatéraux, Affaires publiques et Partenariats technologiques internationaux.
[:en]
Institutions & Strategies is now qualified OPQCM (French Professional Service of Qualification of Advices in Management) for its Finance and insurance services.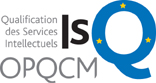 This unique certificate of qualification attests our professionalism and our financial expertise to our customers and prospects.
By this qualification, Institutions & Strategies meets the requirements of the Ministry of Justice Decree relating to the practice of law as an additional activity and can deliver legal services related to its consulting activities, that is:
Analysis of legal and financial aspects linked to the project
Management of the intellectual / industrial property aspects
Regulatory lobbying in the context of accreditation and certification (local regulations: North America, Brazil and France)
Institutions & Strategies is located in Paris and provides integrated support in three areas: European and multilateral fundraising, Public Affairs and International Technology Partnerships.
[:]